'Risk Free' – 'Performance Based' Video SEO Pricing -
How All SEO Consultants Should Work…
We are so confident in our abilities to get your videos on Google page 1, that we are prepared to put our money where our mouth is…
Once we have analyzed your market and researched Google's own search data, we'll gauge the work required to get you on page 1 and submit a detailed proposal. Other than a small set-up fee (depending on the option you choose below), there will be nothing more to pay until your videos are on Google and/or YouTube page 1 for their designated keywords!

Check out our 'Video SEO Pricing Offers' for Spring 2013…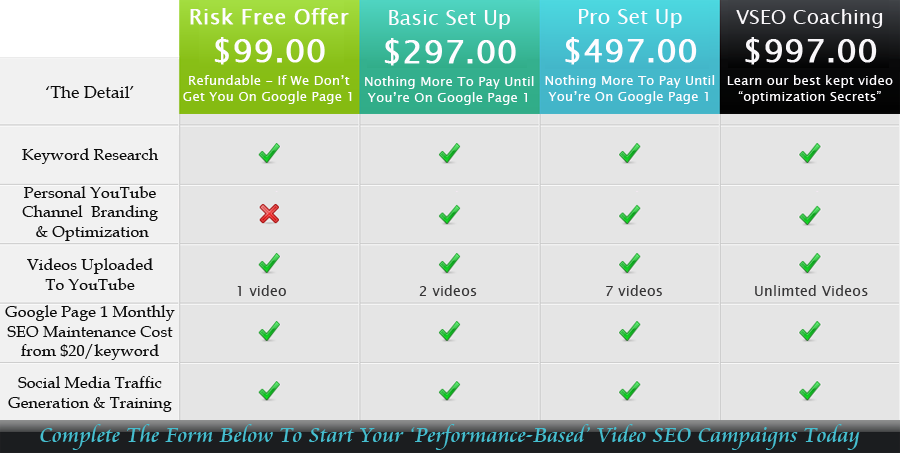 So whether you're looking to get your videos in front of 'super car geeks in Miami', 'garden wheel barrow buyers in Greenland' or 'eccentric luxury yacht enthusiasts on the Solent'… here's what we'll do for you:
1. We'll uncover exactly how many, and what, your prospective clients are typing into the search engines each and every month to find YOU.
2. Agree on the best keywords that would best work for you.
3. Get to work on optimizing your videos to rank in Google and YouTube ahead of your competitors.
Submit your details today and your videos could be on Google page 1 just weeks from now… Consistently driving new prospective clients to your business or services.
'Risk Free' – 'Performance Based' Video SEO Pricing -